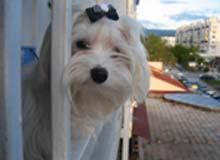 U zadnje vrijeme se često družim s jednim psom. Nazovimo ga Benetton. I sad, taj pas je zbog svoje pasje prirode takav – dugodlak i dlaka mu pada u oči. Svi stručnjaci i uzgajivači preporučuju da se zbog zdravlja očiju dlaka na glavi drži gumicom vezana u tzv. palmicu što vlasnica tog psa i čini. I tako dolazimo do zanimljivog fenomena koji se ponovio X puta. Svi ljudi automatski misle da je taj pas ženskog spola i to samo zato što ima palmicu. Upiru u njega prstom (i odrasli i djeca) i govore "Vidi kako je lijepa" i "Ajme kako je slatka". Njemu to ne smeta, on je OK s time, a ne smeta zapravo ni meni, nego me više intrigira kao jedan sociološki i kulturološki fenomen.
Mi ljudi kakvi jesmo moramo i životnjama pripisivati naše norme i obrasce ponašanja i izgleda. Jer, pošto su u jednom trenutku u povijesti muškarci (uglavnom) prestali nositi dugu kosu i time je duga kosa postala isključivi označitelj ženskosti i ženstvenosti, sad se na taj način moraju ponašati i psi – ni krivi ni dužni.
Osim toga što mu se pripisuje spol s obzirom na njegov vanjski izgled te ga se tako etiketira i podvodi pod nešto što nije, od njega se, s obzirom na taj njegov prikačeni i lažni ženski spol, očekuje da se ponaša na određeni način svojstven ženskama. A taj, ženkama svojstven način, bi se u ludom i kompartmentaliziranom mozgu trebao dijametralno razlikovati od ponašanja mužjaka. Isto tako, mužjacima i ženkama se pripisuje određena seksualna orijentacija koja je – gle čuda – heteroseksualna. I onda dolazi do zanimljivih situacija kao kad se na primjer "moj" pas (koji je mužjak, ali u dragu) njuška s njihovim psom (koji je mužjak i potpada pod norme hegemonske muškosti u pasa). I sve je OK, oni s njuškaju i skaču jedan po drugom, dok ljudi ne kažu "Vaš pas je curica jelda?". I onda ja kažem "Nije, muško je" na što ljudi prestravljeno odvuku svog psa dalje u strahu da njihov pas možda ispoljava nekakve homoseksualne sklonosti.
I, što je najsmješnije (najtužnije?) od svega ti isti ljudi će kasnije tvrditi kako je bilo kakva druga seksualnost osim heteroseksualne neprirodna jer se životinje, jelte, tako ne ponašaju.
Pa da, ne ponašaju se tako zato što im oni, vođeni svojim glupim heteroseksizmom ne daju nego projiciraju na njih svoje (društvene) norme i pravila te izvrću situaciju tvrdeći kako je to zapravo prirodno.
K.Z.