Nakon svih ovih godina došao je red da se tepisoni u LORI zamijene laminatom. Pronašle smo najbolju ponudu za kupnju i postavljanje, angažiramo se volonterski za "građevinske" radove u našoj moći, a molba vama je da nam pomognete s nekim eurom u kupnji laminata 🙂 Znamo koliko su porasli životni troškovi – uključite se ako možete i koliko možete! Troškovi su nam 2.500,00 €, bile bismo zadovoljne ako od donacija sakupimo i trećinu 🙂 Nemamo keks ili barkod, ali dovoljno je da pri uplati upišete dolje navedene podatke i to je to 🙂
Dakle, bitne informacije su:
Naziv: Lezbijska organizacija Rijeka "LORI"
Banka i broj žiro računa: Privredna banka Zagreb, HR6123400091117014659
Opis plaćanja: Donacija za laminat u LORI
Za uplate iz inozemstva broj deviznog računa je 703000-128379 i SWIFT CODE: PBZGHR2X
For PayPal contributions, our email address is: loricure@yahoo.com .
Donation via the platform Benevity.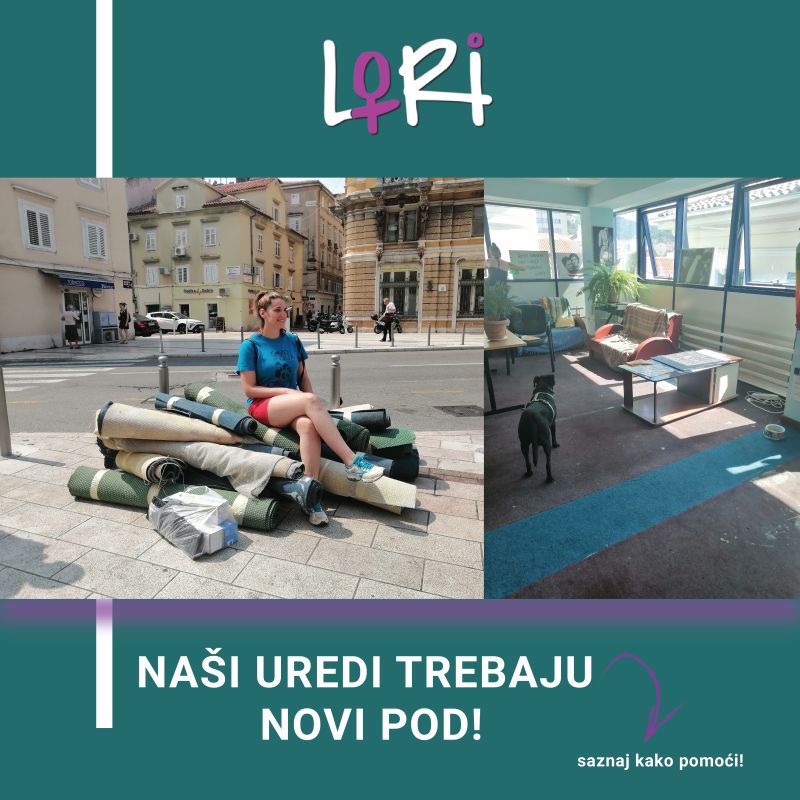 Zašto je to važno? U uredu LORI nastaju ideje za projekte i akcije, provodi se psihološko, peer i pravno savjetovanje, održavaju se susreti grupe mladih, radionice i treninzi, nervira se i tuguje u borbi protiv zmaja zvanog LGBTIQ-fobija, ali se i slavi i raduje kad svjedočimo pozitivnim pomacima, ili dobijemo e-mail sa zahvalom za pruženu podršku.
Uključite se i podržite ugradnju laminata u LORI! Za donaciju ne šaljemo naljepnicu ili torbu, ali bit ćemo jaaaako zahvalne i naravno – uvijek možete doći na kavu ili čaj 😉 HVALA!
jerTEMELJIsubitni 💜