We are happy to announce the 6th Smoqua Festival of Queer and Feminist Culture, bursting with the power of friendship, community and love! LORI and PaRiter, the Smoqua Festival partner from its beginnings, are inviting you to what we hope will be an unforgettable experience of celebrating community, inclusion, discussion and fun in a safe space, which will take place at several locations in Rijeka from Thursday, 13th until Saturday, 15th October 2022. Let's "catapult" ourselves together into the rainbow-coloured heights with the help of talks, movies and surprises.
About Smoqua
The Smoqua Festival of Queer and Feminist Culture unites art and activism as a networking platform for exchanging art/activist ideas and creating and strengthening collaboration among different audiences. This year's festival theme – Equity, Sisterhood, Solidarity – invites us to open up these terms and look at them from different perspectives, drawing on the shared experience of social and cultural oppression.
Do you want to connect, discuss or maybe learn something about the queer and feminist culture scene in Rijeka and Europe, in a supportive environment, of course? Smoqua is the right place for you, with 18 colourful events and more than 30 participants from Europe and America, at 4 locations in the centre of the City That Flows. There are workshops, games, movies, the Human Library, performances, street interventions, a round table & talks, drag show and, of course, the Queer-UP! Party.
PROGRAMME
THURSDAY, 13 OCTOBER 2022
12.00 – 23.00 Hanging out at the Festival Meeting Point
The festival meeting point and Smoqua's loyal friend is, once again, OKC Palach, where you can mingle, get information about the programme and LORI, take a photo with the #Smoqua2022 banner, get a valuable prize or donate money in exchange for cool promo materials. Your (literary, art...) contributions, inspired by the festival theme, are also welcome.
OKC Palach, Kružna 8
15.00 – 16.00 Workshop: Tapping , Svetlana del Vechio (HR)
A workshop that wins you over with innovation and asks only that you are ready to open up to it. The technique of energetic psychology, EFT (tapping), helps reduce and remove unwanted levels of emotional intensity, and effectively overcome fear, anxiety, stress. You can send the applications (name and surname and phone number) to: .
OKC Palach, Kružna 8
16.00 – 18.00 World Cafe: Queer Youth for You(th)
You are a young queer person and would like to know where to go out, how to meet other members of the queer community, or maybe you want to find out more about LORI and our Youth Group? Come and have a relaxed chat with our young members. You can ask them anything you want to know!
In front of OKC Palach, Kružna ulica 8 (in case of rain, inside)
16.00 – 18.00 Human Library: Taboo talks about menstruation and learning & INTIMINA (HR)
We won't be talking about the Red Army, Aunt Flo, bleeding – we will talk about menstruation in its most painful versions. Come and meet our Books, talk to them, learn something new – both from them and our INTIMINA partners. You have questions you can't find the answers to? Ask them; they are here for you.
In front of OKC Palach, Kružna ulica 8 (in case of rain, inside)
18.00 – 18.30 Festival opening
Drums, a performance and a word or two (or three) from the organisers will introduce us to the festival content and theme, followed by more mingling and hanging out, of course.
In front of OKC Palach, Kružna ulica 8 (in case of rain, inside)
18.30 – 20.00 Round table: Invisible – about sexuality and gender identities
Marinella Matejčić will present a publication about the experiences of bisexual people, and discuss with her surprise guests some identities that are not often talked about in the queer community, such as asexuality, non-binary identities, bisexuality. Maybe you have one of those identities or just want to talk about your own experiences outside the category of monosexism and binary identities?
OKC Palach, Kružna 8
21.00 – 22.45 Quickie - International festival speed ​​dating: LORI Youth Group (HR)
Do you want to meet someone or connect with queer folks? Come to the Quickie and relax in the company of the LORI Youth Group. Just bring a smile and forget about time. Important: for those over 18.
In front of OKC Palach, Kružna ulica 8 (in case of rain, inside)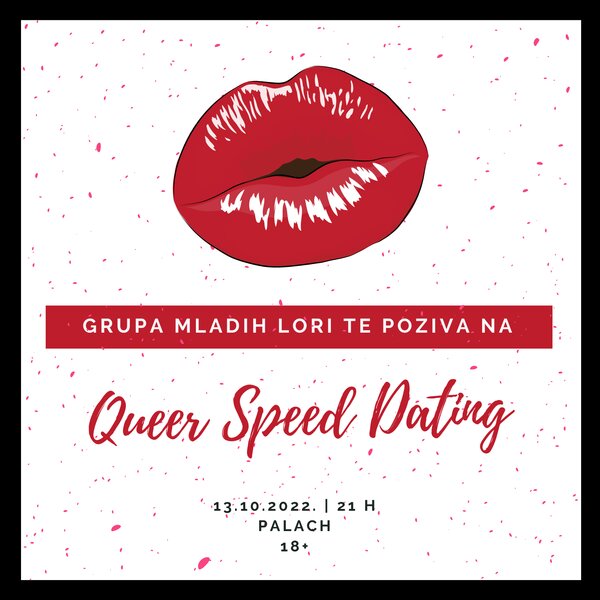 FRIDAY, 14 OCTOBER 2022
15.00 – 17.00 Workshop: Is Self-Care Possible in Queer & Feminism? Karolina Wieckiewicz (PL)
Have you experienced activism fatigue? Do you have someone close to you that has left activism due to fatigue, or are you afraid that it's inevitable? You are not alone. Let's talk about our experiences and ways to be supportive to ourselves and others. Self-care and collective care are possible in activism.
OKC Palach, Kružna 8
17.00 – 18.30 Workshop: Drum with Us! Drum 'n' Bijes (HR)
Experienced drummers form the collective Drum 'n' Bijes from Zagreb are bringing their drums and drumsticks and you should bring motivation and anger. After you have learned the basics of protest drumming, you will have the chance to show your skill at the opening of the show by Austrian artist Chinagirl Tile. Applications: HERE.
OKC Palach, Kružna 8
17.00 – 17.30 Book and author presentation: Hippocampus, Gertraud Klemm (AT) Hippocampus, Gertraud Klemm (AT)
The award-winning Austrian writer, who has won the Ernst Toller Award for her novel Hippocampus (2019; translated into Croatian) she has won the Ernst Toller Award. Why do we name institutions after male writers, but use female writers' names only to name salads? Marija Ott Franolić talks with the writer.
Cukarikafe, Trg Jurja Klovića 4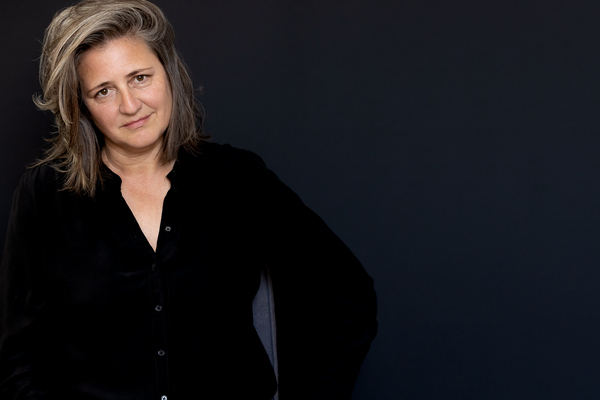 17.30 – 18.30 Round table: A Piece of Woman's Rage, Gertraud Klemm (AT), Branka Mrzić Jagatić (HR)
Female fertility is often the target of patriarchal hunters who want to take away reproductive rights and women's right of choice. Gertraud Klemm and Branka Mrzić Jagatić, together with moderator Marija Ott Franolić, bring into focus the voices of women who deal with these topics in their work or live them in their everyday activist battles for women's rights.
Cukarikafe, Trg Jurja Klovića 4
20.00 – 23.00 Documentaries & Art Films: Trans*Gaze, Rosa Wiesauer (AT) & For They Know Not What They Do, Daniel G. Karslake (US)
Through the story of 5 people's experiences, the director shifts the so-called male gaze, which implies looking at the world through a prism of heteronormativity and a dominant male role, into an "alternative regime of views".
For They Know Not What They Do examines the intersection of religion, sexual orientation and gender identity in America. By telling the stories of four families, the film offers healing and understanding to those caught in the crosshairs of scripture, sexuality, and identity.
The executive director of Liburnia Film Festival, Jelena Androić, talks with the authors.
Art-Kino Croatia, Krešimirova 2
SATURDAY, 15 OCTOBER 2022
14.00 – 15.00 Street Art: Chinagirl Tile (AT)
The international artist, whose works often thematise social and political themes, places a series of relief tiles in cities all around the world in her project Tiles. What's special is the choice of material (ceramics) and the places she puts the tiles in, which elevates her from the classical understanding of street art. The opening is accompanied by the drum collective Drum 'n' Bijes.
In front of the IVEX building, Delta 5
15.00 – 17.00 Workshop: New Urban Queer Myths: Vesna Kurilić and Antonija Mežnarić (HR)
Do you ever wonder how ancient hero stories would look if they had queer characters? Do you wish that on the way home, around the corner, instead of the Slenderman story, you would fall into a new, queer creepypasta? Write out the new landscape of queer stories with us, somewhere between fairy tales and contemporary urban legends, together with writers and editors Antonija and Vesna.
OKC Palach, Kružna 8
17.00 – 18.30 Don't Get Angry! – board game x LELO (HR/SE)
LELO is once again supporting Smoqua! You have always been interested in board games with the theme of responsible sexual behaviour, but you can't find them anywhere? Apply with your team (4 people), think of a creative name and fill in the application form HERE.
The number of participants is limited, and the prizes are dazzling!
In front of OKC Palach, Kružna ulica 8 (in case of rain, inside)
19.00 – 20.00 Workshop: Release Your Inner Drag! Karmen Daš (SI)
Do you want to do drag? Do you want a safe space where you can try gender expression on stage through drag? The Slovenian drag queen Karmen Daš is coming to mentor and help you with it. You can come in drag or out of drag, whichever way you feel like.
OKC Palach, Kružna 8
21.00 – 2.00 Queer-UP! Party, Časna Sestra (RS)
Marija Nikolić, a.k.a. Časna Sestra, with a long experience of queer parties is throwing it on the dance floor with an eclectic repertoire: electro dance hits from the '70s to the '90s, synth pop, electro pop, indie dance/nu disco and a few musical surprises.
OKC Palach, Kružna 8
23.00 – 23.45 Drag show: Karmen Daš (SI)
Our favourite Slovenian drag queen is on her way to slay the house down boots and later drink some cocktails you will buy her. She is a divine being sent to Earth to be a passionate performer with a message: Love yourself, share love and be a feminist!
OKC Palach, Kružna 8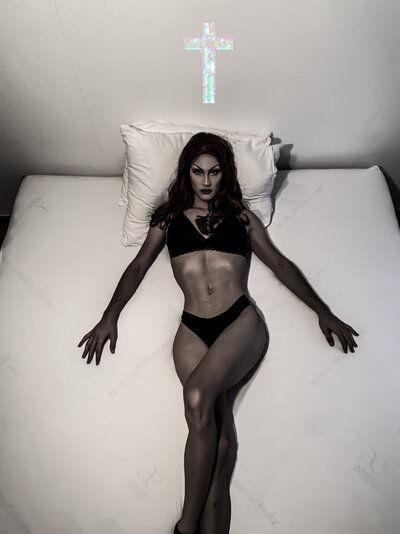 *Admission to all festival events is free, except to the Queer-UP! Party, where donations can be given at the entrance
Organisers: Lesbian Organisation Rijeka LORI + PaRiter

The festival is supported by: City of Rijeka / Global Fund for Women / Astraea / Adria print / Austrian Cultural Forum Zagreb / LELO / INTIMINA / Youth Cultural Centre Palach