Digital resources for schools, organisations and youth on various LGBTIQ+ topics were created within project Common point – Inovativni pristupi obuci pružatelja/ica usluga mentalnog zdravlja za kvalitetnu podršku LGBTQI osoba organizacije Háttér Társaság, Single Step Foundation, Prague Pride and Lesbian Organisation Rijeka - LORI. kreirale su e-platformu s ciljem stvaranja inovativnog i lako dostupnog materijala za obuku stručnjaka/kinja iz područja mentalnog zdravlja, a kako bi se poboljšala usluga kvalitete rada s LGBTIQ+ osobama.
Kroz ovaj projekt do sada smo uspješno održale petodnevni trening o LGBTIQ+ temama za stručnjake/kinje iz područja mentalnog zdravlja, predstavile seriju edukativnih videa o raznim LGBTIQ+ temama, potom izdale i Priručnik za trenere/ice, organizirale vrlo posjećen javni događaj "Unaprjeđenje psihosocijalne podrške za LGBTIQ+ osobe", a sve s namjerom da bismo povećale znanje i vještine stručnjaka/kinja za mentalno zdravlje o LGBTIQ+ temama.
Za koga su ti materijali? Prvenstveno za školske savjetnike/ice, operatere/ke linija u kriznim situacijama, socijalne radnike/ice i kliničke psihologe/ginje.
Platforma je na engleskom, hrvatskom, češkom, bugarskom i mađarskom jeziku, sastoji se od šest općih i četiri specifična modula, namijenjena upravo svakoj ciljnoj skupini. Kroz vježbe, refleksije, kviz, teoretske okvire i video materijale, platforma pruža specifična znanja o LGBTIQ terminologiji, coming outu, transrodnim i rodno varijantnim osobama, ljudskim pravima i sistemima opresije, homofobiji/bifobiji/transfobiji/interfobiji.
Kako do platforme? Dovoljno je registrirati se here i upisati ovaj interaktivni online tečaj u trajanju od 16 sati.
Bitna napomena: nakon što se uspješno savlada svaki modul, moguće je preuzeti i certifikat.
Nastavljamo zajedno s unapređenjem usluga za LGBTIQ+ osobe, hrabro i odlučno!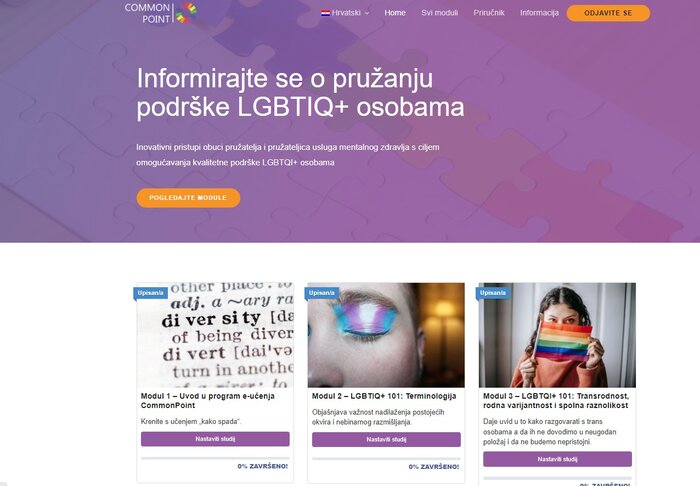 E-platforma je nastala u sklopu Erasmus+ projekta "CommonPoint – Inovativni pristupi u osposobljavanju pružatelja usluga mentalnog zdravlja za kvalitetnu potporu LGBTQI osoba". Projekt provodi udruga Hatter Tarsasag (Mađarska), a partnerske organizacije su Prague Pride (Češka), Single Step Foundation (Bugarska) i Lezbijska organizacija Rijeka "LORI"  (Hrvatska).